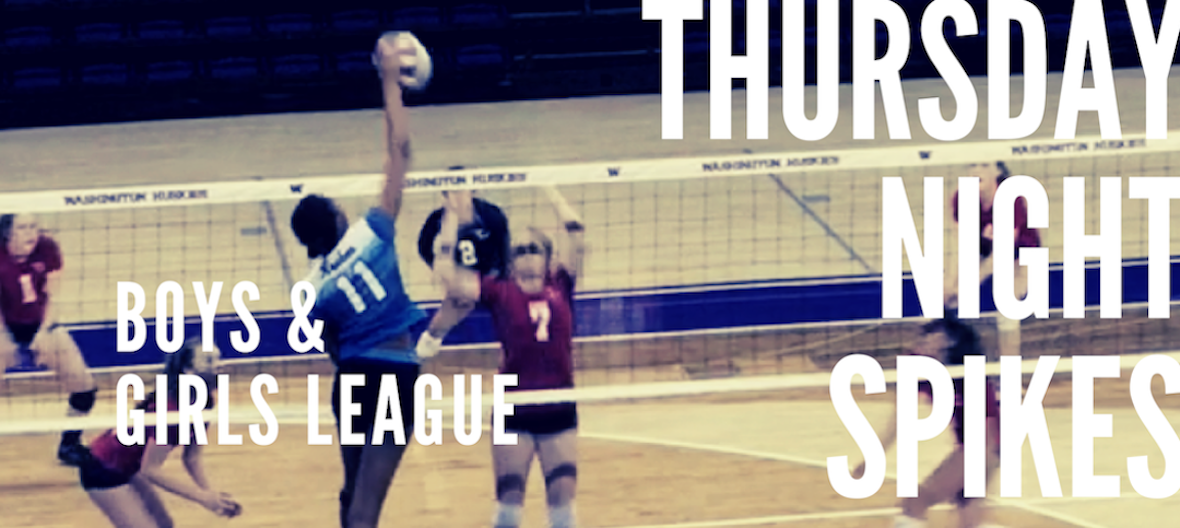 PROGRAM CANCELED DUE TO LOW REGISTRATION
Thursday Night Spikes is a Girls and Boys Volleyball League played on Thursday evenings at The Lair. Register a complete team of 8+ players, or as an individual and you will be drafted on to a team to compete for the season. We have 2 Girls and 2 Boys divisions, see below for age breakdown for each of the divisions. All spots in the league are reserved on on a first come, first served basis. 
We have a limited amount of space available in each division, so please make sure to get yourself entered and paid to hold your spot.  Registrations and payments are due by May 31 should there still be room in the desired division. For those who register as a free agent for the draft, draft results will be announced at the League Kickoff Party on June 12. We will have open play for teams to practice, and you can pickup your league jersey. The first night of league play is Thursday, June 13. The league will run 7 weeks, concluding on Thursday, July 25 with the end of season playoffs.  
Divisions
(Age as of June 13, 2019)
Boys D1 | 15 and older
Boys D2 | U14 

Girls D1 | 15 and older
Girls D2 | U14 and up to 2 boys 
Dates

May 31 | Registration Closes if spots are still open
June  12 | League Kickoff Party
June 13 | League Begins
July 25 | League Concludes with Playoffs
Weekly Schedule
5:30pm - Doors Open for Warmup
6:00pm - Play Begins
9:00pm - Play Concludes 

Cost
$95 / Player (Includes Thursday Night Spikes Jersey)
Venue
Registration Deadline
May 31st - First Registered and Paid Basis
Entry & Payment Instructions
Individual Player Registration
Individual and team registrations accepted. Please click on the Thursday Night Spikes Register Here! button below. If you are registering as and individual player to be placed on a team, choose the correct "Name: and "Level" and click the green "Register" button. 
Creating a New Team Registration
If you are creating and registering a complete team, click the blue "Create Team" button in the upper right hand corner and follow the instructions.